This post may contain affiliate links. Please see my disclosure to learn about the care I take when recommending products to my readers.
Like me, you've probably seen tomato seeds in your local home improvement store and noticed that the selection is pretty limited. They might only have a few different varieties, including cherry, roma, beefsteak, and possibly a few you haven't heard of or tried.
Years ago, I remember holding four of five packets in my hand and wondering: Where can I find better, more interesting heirloom varieties?
To buy the best heirloom tomato seeds, find a few top-notch seed retailers, browse their online stores or catalogs, and choose varieties that have the desired characteristics and that grow well in your region. These seed retailers are reliable companies that have large, excellent selections of heirloom seeds:
Seed Savers Exchange (Decorah, Iowa)
MIgardener (Port Huron, Michigan)
Baker Creek Heirloom Seeds (Mansfield, Missouri)
Botanical Interests (Broomfield, Colorado)
Johnny's Selected Seeds (Winslow, Maine)
Hudson Valley Seed Company (Accord, New York)
This is not an exhaustive list of every seed distributor because, quite frankly, you don't need an exhaustive list of every seed distributor (that would be overwhelming!). If you're anything like me, you only need a few reliable companies, and you'll have all the seed options you could possibly want for years to come.
A word to novice gardeners: Heirloom tomato plants will typically produce less fruit than their hybrid cousins, but the fruit they produce will often be much more flavorful and will come in a variety of sizes, shapes, and colors rarely found in grocery stores.
If you've likely got a local garden center in your area that specializes in heirloom tomato seeds, I'd recommend visiting their store and learning more about the varieties they offer and what grows best in your region. But if you don't have access to that kind of store–or if you want a much larger selection of heirloom varieties–your best bet is to buy from the companies listed below.
Could I have included more options in my list? Of course! But my goal is to make buying heirloom seeds as simple and straightforward as possible, and these stores are my hands-down favorites when it comes to purchasing seeds.
And no, I'm not getting anything in return from these retailers. [Wouldn't that be nice!] I'm just sharing what I've learned over the past 10+ years of gardening.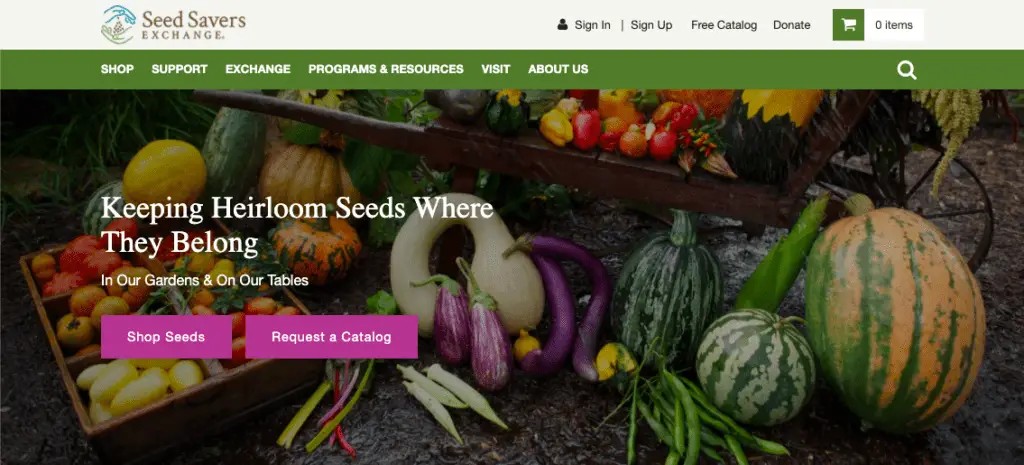 1. Seed Savers Exchange
www.seedsaversexchange.org
3094 North Winn Rd., Decorah, Iowa 52101
563-382-5990
Founded in 1975 by Diane and Kent Whealy, Seed Savers Exchange is a must for anyone interested in growing heirloom tomatoes. They not only sell beautiful, unique varieties to customers all over the world. They also manage an enormous seed bank at their Iowa headquarters (with backup seeds stored at the Svalbard Global Seed Vault in Norway), which allows them to save, reproduce, and share varieties that might have otherwise been lost to history.
I love the mission of Seed Savers Exchange–and, of course, their incredible seed selection!–which is why they're my top choice for heirloom tomato seeds. You can learn more about their mission on the Seed Savers Exchange website.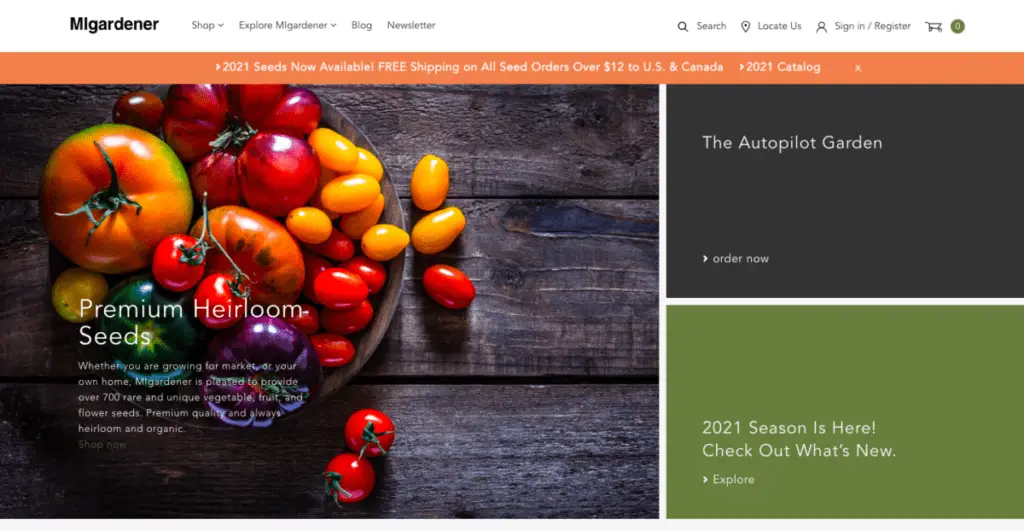 2. MIgardener
www.MIgardener.com
227 Huron Ave, Port Huron, Michigan 48060
810-300-8845
contact@migardener.com
MIgardener is a personal favorite. Founded in 2011 by Luke Marion, MIgardener has an amazing assortment of heirloom seeds as well as other merchandise selected by his team of gardeners (so you know the quality is going to be good). They've also got a seed reclamation program designed to support local gardeners who are struggling financially. If you have leftover or unwanted seeds, simply send them to the address above, and the team at MIgardener will make sure those seeds are donated to someone in need.
And if you haven't checked out MIgardener's YouTube channel, I'd highly recommend doing so. Luke posts videos regularly, and he provides all kinds of tips and advice for both novice and experienced gardeners.

3. Baker Creek Heirloom Seeds
www.rareseeds.com
2278 Baker Creek Rd, Mansfield, Missouri 65704
417-924-8917
seeds@rareseeds.com
Founded in 1998 by Jere Gettle, Baker Creek is one of the largest seed retailers in the world. They're got 1000+ varieties of heirloom seeds available to purchase, practically anything you could ever wish to grow. But my favorite thing about Baker Creek is their massive heirloom tomato seed selection. In fact, they have so many varieties that they divide them into ten different categories:
Blue Tomatoes
Cherry and Grape Tomatoes
Green Tomatoes
Orange Tomatoes
Pink Tomatoes
Purple Tomatoes
Red Tomatoes
Striped Tomatoes
White Tomatoes
Yellow Tomatoes
If you're lucky enough to live near Mansfield, Missouri, be sure to visit the Baker Creek store in person. They host all kinds of gardening events at both their Mansfield location and their second store in Santa Rosa, California.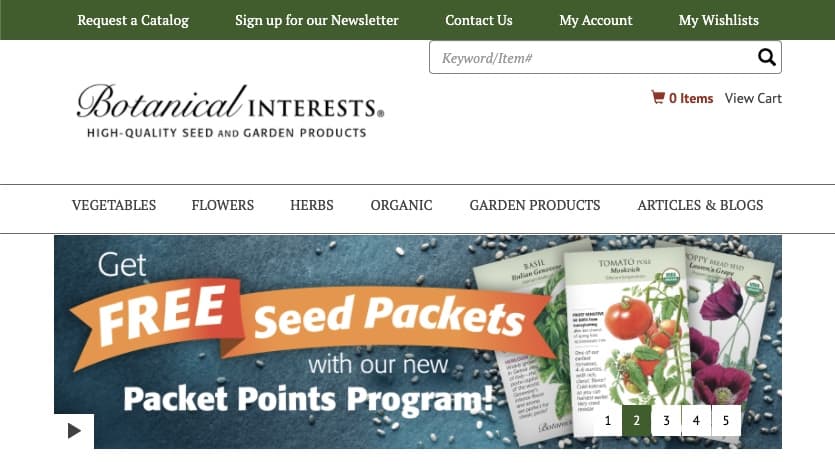 4. Botanical Interests
www.botanicalinterests.com
660 Compton St., Broomfield, CO 80020
877-821-4340
customer.service@botanicalinterests.com
Started in 1995 by Judy Seaborn and Curtis Jones, Botanical Interests sells 600+ seed varieties, including a large selection of heirloom tomato seeds. From a single seed packaging machine in Judy and Curtis's garage to a company that regularly ships millions of seeds per year, Botanical Interests is know for their art-inspired seed packets that provide helpful, interesting information about each variety.
If you check out their How to Read a Seed Packet page, you'll see one of many reasons why I love this company. And if you're interested in learning more about the origins of Botanical Interests, the folks at Seed World interviewed Judy Seaborn a few years back. Check it out!
5. Johnny's Selected Seeds
www.johnnyseeds.com
955 Benton Ave., Winslow, Maine 04901
877-564-6697
Founded in 1973 by Rob Johnston, Jr., Johnny's Selected Seeds is a one-stop-shop for tomato lovers since they carry a large assortment of varieties. They not only sell seeds and other gardening products. They've also got a 40-acre farm in Albion, Maine, that they use as their primary research facility.
With additional farmland in neighboring areas, Johnny's Seeds has been able to breed new vegetable varieties in quantities large enough to make their seeds commercially available. If you live in or around Winslow, Maine, you can even pick up seeds from their retail store.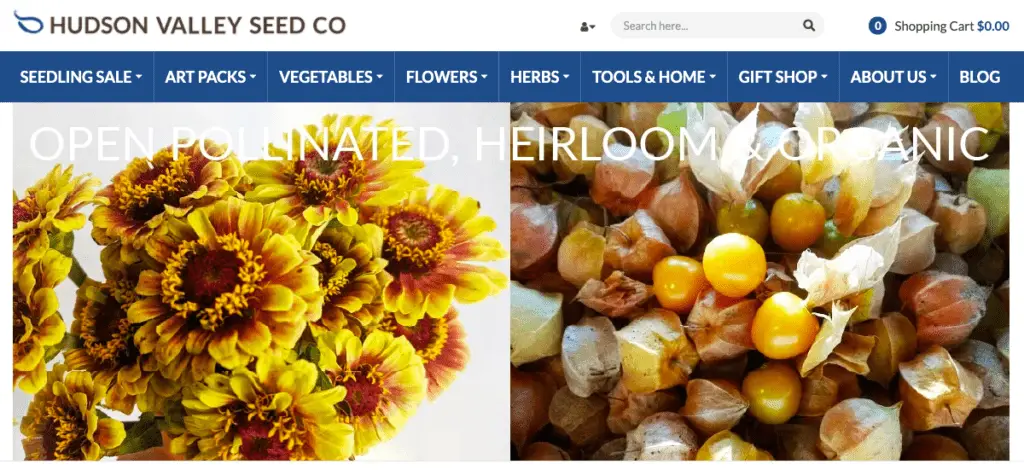 6. Hudson Valley Seed Company
www.hudsonvalleyseed.com
4737 Rout 209, Accord, NY 12404
845-204-8769
mail@hudsonvalleyseed.com
Unlike most other seed distributors, the Hudson Valley Seed Company started off as a seed library program overseen by the company's co-founder Ken Greene. In 2009, Ken and Doug Muller transformed the seed program into a seed company to meet the needs of gardeners across the United States (and beyond) who were interested in growing organic, heirloom vegetables.
They sell unique Art Packs for those who are interested in learning more about the history of their seeds, and they've got a retail store for gardeners who live within driving distance of Accord, New York.
Some Tips for Novice Tomato Lovers
When I first started buying seeds and growing my own heirloom tomatoes, I made quite a few mistakes and ended up spending more money than I should have. I thought I'd share some tips so that you don't make the same mistakes I did!
Learn About Your Region. The last think you want to do is to buy seeds without proper planning. If you purchase varieties that are not suitable for your region, odds are your garden won't thrive . Look up information about your growing zone and talk to local gardeners or retailers. Once you do that, you'll be ready for the next step. You can find out more by taking a look at the USDA's Plant Hardiness Zone Map.
Understand Your Growing Season.

Local growing conditions are going to vary widely depending on where you live. It's crucial to understand such things as your first and last frost dates, average summer and winter temperatures, and expected rainfall for your area. These factors will influence the kinds of heirloom tomatoes you'll be able to successfully grow in your garden.

Plan Your Garden. This step is essential. If you don't plan your garden properly, you'll likely waste seeds from one season to the next or fail to utilize your space efficiently. For starters, I recommend Mel Bartholomew's excellent book All New Square Foot Gardening. Once you've planned your space, you'll know exactly how many varieties you'll be able to grow and how many seed packets you'll need to purchase.
Select Your Varieties. Once you've taken care to learn more about your region and growing season and have planned out your garden beds, now the fun begins. Check out the stores I've mentioned above and look for varieties that look interesting or ones you've never tried before. If you follow the steps on the seed packets and sow your seeds at the right time, you'll be enjoying all kinds of heirloom tomatoes by early summer. Good luck!
Want More Tomato-Related Information?
If you'd like to learn more about my experiences growing and harvesting tomatoes, check out these related articles: